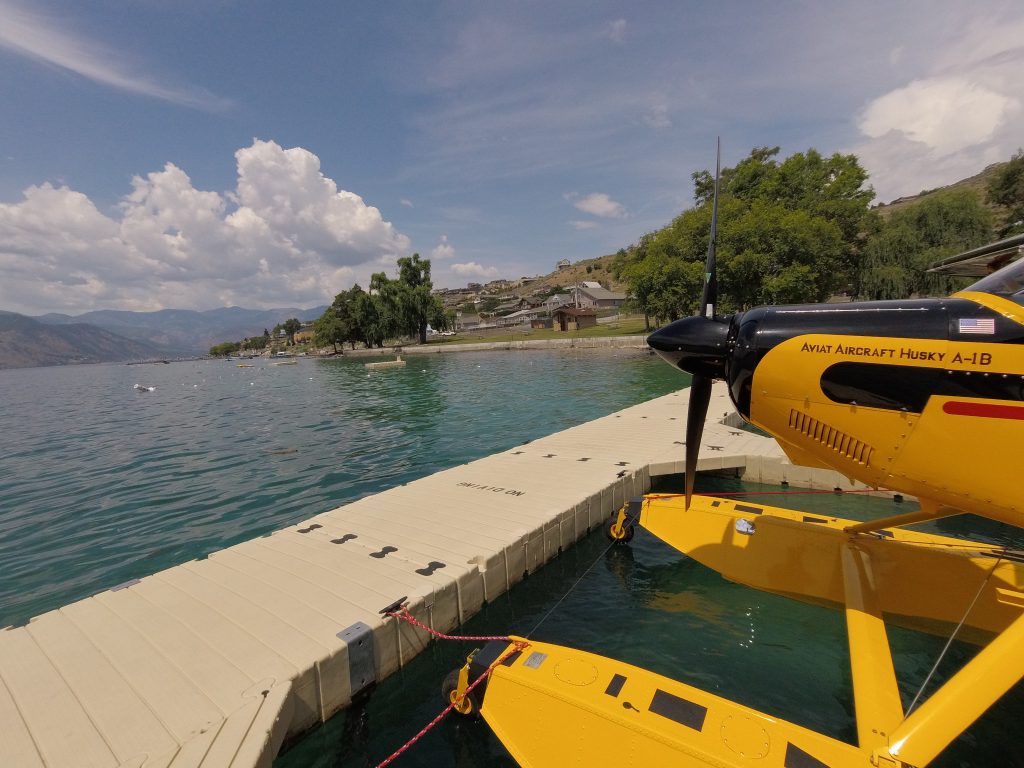 Day 2, Through the Gorge and into Canada
Under low clouds I went North 6 miles from Troutdale to Grove Field and fueled up at a dollar less per gallon than the Troutdale Airport. From there I headed up the Columbia Gorge the cloud bases were at 2000 feet and some strong headwinds were coming down the Gorge but it was beautiful to fly over the Cascade Locks. Marveling at the enormity and power of the Columbia River. After about 40 miles I was able to turn north toward Yakima and on to Lake Chelan.                                                                                                                                                                                
Lake Chelan is a beautiful and narrow 50 mile long Lake. I circled along the shore lines, in amazement and also looking for a suitable dock or beach where I could pull up to take a break and eat my lunch. The beaches I saw looked  private or blocked by  swimming areas  and most all of the docks were the type that use piers driven into the ground and extending up through the dock, but when docks are made that way a float plane cannot come up to it because the wing would hit the piers that come up above the dock.  Thus, I was looking for floating docks with no piers and there were very few to choose from. I found one that looked like it was coming off of a public park but when I tied up to it it had "private property, association members only" written all over it. I used the restroom and hoped that I could have a relaxing lunch before someone asked me to leave, but a security guard showed up in no time and told me that I had to leave immediately before some of the association members on the hill called and he got in trouble. So I ate my lunch a drift and then headed up to Omak for fuel.
I had less than 45 minutes fuel when I got there and unfortunately there was a big black thunderstorm off to the West creating a really strong crosswind. Most of the time I would not land at an airport with a crosswind that strong but I needed the fuel so I took the chance and it went quite smoothly. With a wind like that I land at a diagonal across the runway, touching down on one side and slowing enough to turn down the runway before going off the other side. As I was finishing fueling The heavy rain from the thunderstorm started and I chose to take off immediately and get out of the way because I did not know how long I would be stuck there if I tried waiting it out. As I took off I called flight service on the radio and opened my border crossing Flight Plan. I told him I was early opening the flight plan because of a big storm and he told me that that thunder cell was predicted to have 2 1/2 inch hail coming out of it!
I had a beautiful flight up to Penticton. For customs into Canada I had called to schedule my arrival appointment the day before and then on arrival the procedure is to stay in your plane and telephone them to see if they will be coming out to do an inspection or taking your word for it that everything is in order. I had a 40-minute wait to get through to them but they said they were not coming out. I grabbed my overnight things and decided to walk to lodging for the fun of it rather than taking a taxi, I was just really enjoying my arrival in Canada. About a mile down the road I came across a funny little group of storefronts overlooking the lake and one of them was called The "Angry Vegan". I had a fabulous Buddha bowl there and overheard some talk about yurt rentals next door. Next thing you know I am sleeping in a cute little yurt. I really liked it but what I didn't realize was that a yurt has very thin walls and I was sleeping a quarter mile from the runway and a hundred yards from the highway. Luckily I was so tired I slept extremely soundly.